Hello everyone! I hope you're having a lovely week and keeping warm.
As always, there's plenty to get involved in at Converge. Here are just a couple of upcoming performances, events and happenings to pop in your diary:
In the Moment – 'Campfire Stories' – Wednesday 15th December
In the Moment would like to invite you to their performance of Campfire Stories, a performance which explores the origin of fire though myth, stories, song, music and of course, a healthy dollop of humour.   If you would like tickets (move quick as they are limited) click the link https://www.eventbrite.co.uk/preview?eid=216328272687/ The performance is in Theatre 4 at 6.30pm on Wednesday 15th December. The event is free and will include a complimentary marshmallow!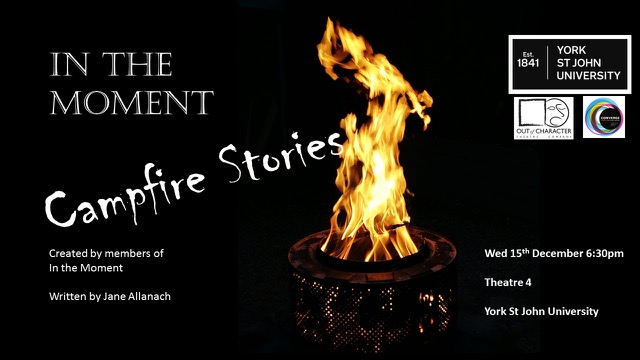 Converge Christmas Sharing – Thursday 16th December
Join us for an afternoon of art, theatre, music, and presentations by Converge Students & Staff on Thursday 16th December, Temple Hall and Foyer at York St John University.
Our art exhibition will open in Temple Foyer from 3pm, and performances will begin at 4pm. The event will finish at approximately 6pm, and you are welcome to join us in the Arts Foyer for cake and refreshments straight after.
The Christmas Sharing is very much a celebration of what we have achieved throughout the Autumn Term, so family and friends are more than welcome to come along. You will not need a ticket to attend this event.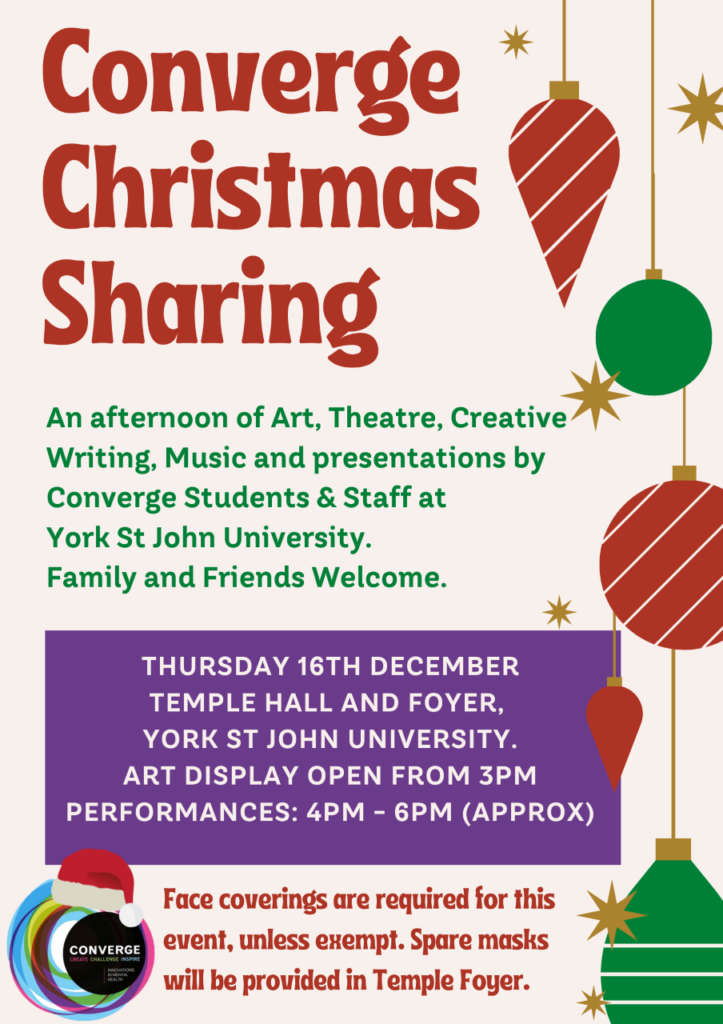 Out of Character Performance – 'Voices of Reason' – Thursday 16th December
After the sharing, Out of Character Theatre Company will be performing their brilliant new show Voices of Reason at York St John University, 7:30pm on Thursday 16th December after the Christmas Sharing. You can book tickets for this using the following link: https://www.eventbrite.co.uk/e/out-of-character-performance-tickets-211709096607