Hello everyone! I hope you are all enjoying the plethora of Summer classes and events at the moment. It was lovely to spend my Thursday afternoon last week hearing all about the classes Converge has run over this last year and some of the amazing work students have produced.
The origami, drawing on life, leaded glass and art mixed media classes had some beautiful art works on display in temple wing! Different styles, subjects and flights of imagination created a diverse display reflective of the creativity and individuality of the Converge art students. A flock of paper butterflies ascended the wall, over a display of beautiful, fairy-tale like, stained glass pieces, while another wall bursts with the colours and shapes of abstract paintings created with string, and the light streamed through the windows, surrounded by symbols of peace and solidarity for Ukraine expressed through drawings.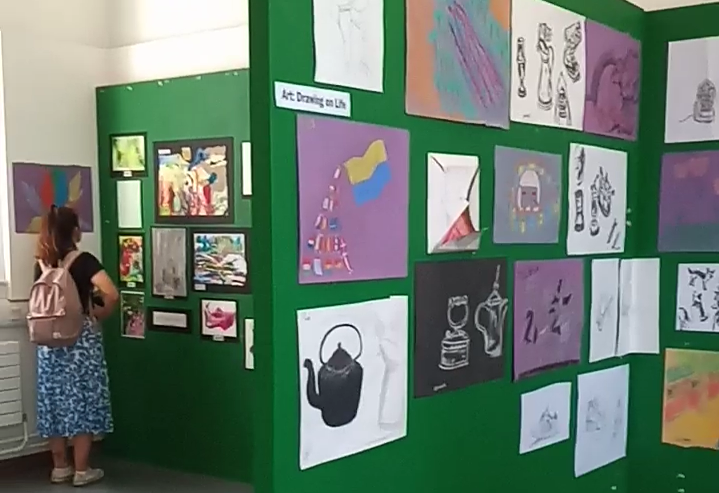 For the rest of the afternoon, temple hall was filled with music and sound, drama and sharing of written works. Readings from our latest publication of 'creative writing heals were shared,' ranging from poetry to prose, funny to moving and bits of both. A few writers shared short fictional pieces, autobiographical stories, and even some part-rapped poetry.
Glove puppets, with the help of actors from 'In the moment theatre' and 'Out of Character' theatre creatively explored the findings of the ongoing Converge Evaluation Project. Meanwhile, 'Working toward Performance' made us laugh with the struggles of one first time director negotiating auditions with a challenging group of wannabe actors.
The Converge choir performed a variety of songs from the well-known and loved, to original pieces written by choir members. Luckily for every one there, I managed to stop myself joining in with country roads take me home!
Individuals who had never imagined writing their own songs, shared finished recordings that left me with my jaw hanging. From uplifting to deeply personal and powerful the songs explored thoughts and feelings in an engaging and creative way that all who heard could share in. Students in music production classes had created songs in another way, making some amazing pieces of music with some clever techy programmes that I would explain if I had a clue (it's very clever!)
We heard a little about some projects that students can get involved with in Converge, including the Converge Evaluation and Research Team, and the Archaeological excavation at Willow house. The findings of the archaeological dig so far were explored in a sound scape created by Converge students, merging the sounds of today with Vikings, Romans and Victorians and inviting us to imagine the lives that we can connect with through the objects left behind- check it out below…!
Hopefully everyone left the hall feeling proud of their involvement, encouraged to continue developing their creativity and skills, and inspired to explore new opportunities within converge and beyond!
A big congratulations to everyone who has been involved in Converge this year, whether you were involved in the sharing or not, it is your creativity and individuality that makes the community so special. I look forward to the next sharing- who knows what amazing things you lot will be creating by then!
Best wishes,
Eleanor